Standards and Certificates
มาตรฐานและใบรับรองจากสถานบันชั้นนำของโลก เป็นกระจกสะท้อนถึงความมุ่งมั่นและตั้งใจ
ของผู้บริหารและทีมงานทุกคนในการผลิต พัฒนาสินค้าและบริการของเราอย่างต่อเนื่อง
สินค้าที่ผลิตสู่ลุกค้านั้น จึงมีเครื่องการันตี
ให้แก่ท่านในมาตรฐานและคุณภาพของสินค้าของ BBT
และมาตรฐานที่เราได้รับที่ผ่านมาได้แก่
1. OEKO-TEX Standard 100

STANDARD 100 by OEKO-TEX® is one of the world's best-known labels for textiles tested for harmful substances.
It stands for customer confidence and high product safety.

Oeko Tex 2013


Oeko Tex 2014


Oeko Tex 2015



Oeko Tex 2016


Oeko Tex 2017


Oeko Tex 2018

Oeko Tex 2019

Oeko Tex 2020

Oeko Tex 2021

COMING SOON

Oeko Tex 2022






2. Thailand Trust Mark
Thailand Trust Mark is a symbol of excellence and trusted quality that was established to add
distinctive value to
Thai products and services that are made in Thailand.
This certificate gives you trusted quality. It gives assurance that Thai products and services
with the T Mark symbol offer world-class excellence including social and environmental responsibility.
Reassuringly, it is supported by the Royal Thai Government.
When you see the TMM symbol, you can be confident that you are getting the bestquality of goods and services Thailand has to offer.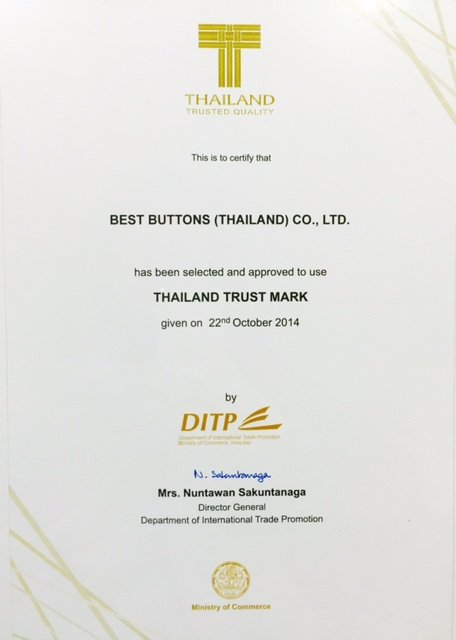 Thailand Trust Mark
3. Trim Qualification Program
Intertek's Trim Qualification Program provides children's apparel and footwear retailers,
vendors and trim suppliers the transparency and traceability necessary
to rely on component testing under the CPSC Testing and Certification Rule.
Partner & Association